COMUNICAZIONI SOCIALI
Journal of Media, Performing Arts and Cultural Studies
Comunicazioni Sociali is an international double-blinded peer reviewed journal. Established at the Università Cattolica del Sacro Cuore in 1966 as Annali della Scuola superiore di giornalismo e mezzi audiovisivi, it became Annali della Scuola Superiore delle Comunicazioni Sociali in 1967. As Comunicazioni Sociali it has been regularly published since 1979. The journal hosts monographic and miscellaneous issues on a variety of topics in the performing arts, film, radio, television, journalism, advertising, and digital media. The journal welcomes interdisciplinary perspectives and promotes rigorous debates on theory, history, critical analysis of media production and consumption, also from ethical and anthropological points of view.
CS is A-class rated journal by ANVUR (Italian National Agency for the Evaluation of the University and Research Systems) in the three academic disciplines: Cinema, photography and television (L-ART/06), Performing arts (L-ART/05), and Sociology of culture and communication (SPS/08). The journal obtained an international recognition by the French AERES - Agence de l'évaluation de la recherche et de l'enseignement supérieur, being listed between its information and communication sciences journals. CS is included in the IATJ database – International Archive of Theatre Journals, also accessible on the IFTR - International Federation for Theatre Research's website. In 2016 CS was accepted into Elsevier's international indexing database Scopus.
COMUNICAZIONI SOCIALI - 2020 - 2. Learning from the Virus: The Impact of the Pandemic on Communication, Media and Performing Arts Disciplinary Fields.
CHIARA GIACCARDI, JÉRÔME BOURDON, NICO CARPENTIER, KIRSTEN DROTNER, DANA RENGA and ANDREA VIRGINÁS reflect on the current Coronavirus-induced crisis in search for sociological solutions to the political, social and economical changes that we are experiencing.
Arts-based Research in Communication and Media Studies
As Leavy (2015: ix) writes, arts-based research is "a set of methodological tools used by researchers across the disciplines during all phases of social research, including data generation, analysis, interpretation, and representation." Its emphasis on doing (making) brings in the idea that knowledge is or, expressed more modestly, can be embodied and produced through the creation of the artistic practice itself. To use Cooperman's (2018: 22) more poetic formulation, "Arts-based research is a research of the flesh where our source material originates from the closeness and collaboration of the bodies and voices of one another." Slowly but surely, arts-based research is making its entry into Communication and Media Studies, moving away from our rather exclusive focus on the written text. There is, for instance, the work of the multidisciplinary Collective for Advancing Multimodal Research Arts or scholars at the Communication Studies Department of Concordia University (Chapman & Sawchuk, 2015). Communication and Media studies scholars also publish their non-written texts in such specialized journals as the Journal of Video Ethnography; Tecmerin: Journal of Audiovisual Essays; and Audiovisual Thinking, the Journal of Academic Videos. Moreover, both the International Communication Association (ICA) and the International Association for Media and Communication Research (IAMCR) have featured exhibitions at some of their recent conferences, the former with the 2017 Making & Doing exhibition and the latter with 2018 Ecomedia Arts Festival, taking gentle steps toward (the acknowledgment of) non-written academic texts.
Permanent CFP
Since 2013, the traditional monographic section of each issue of Comunicazioni Sociali has been supplemented by a miscellaneous section. The call for papers for the miscellaneous section is always open. Contributions will undergo the same double-blind peer-reviewing process of the monographic section. Since its inception, CS has been contributing on key debates of studies on theatre, cinema, radio, television, journalism, advertising and digital media. The journal has promoted a rigorous reflection on theory, history and critical analysis of media, communications and performance arts. It continues to be a fundamental voice within the debate on the more recent and controversial questions of communication (from ethics to anthropological design) drawing on theoretical reflection and historical analysis, as well as from the proceedings of empirical research.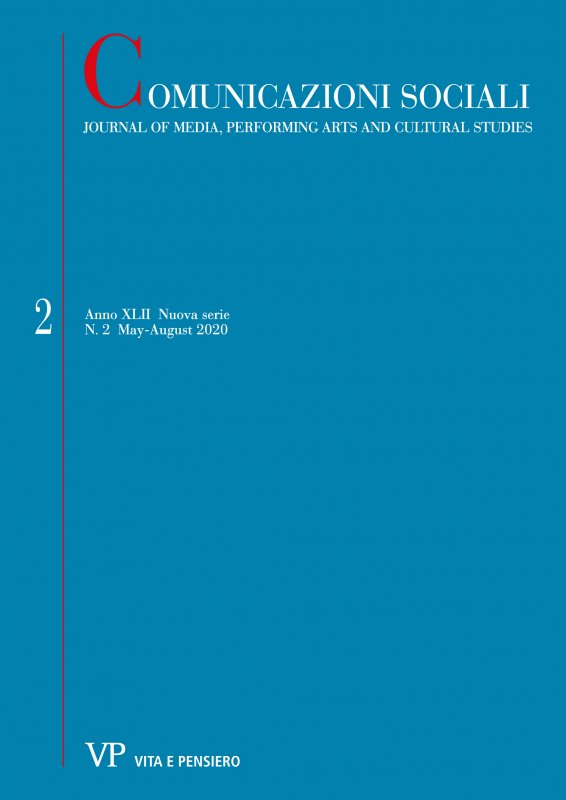 Latest issue
Anno: 2020 - n. 2
Browse the archive
Recent issues
Available online
2020

issues