COMUNICAZIONI SOCIALI
Journal of Media, Performing Arts and Cultural Studies
Comunicazioni Sociali is an international double-blinded peer reviewed journal. Established at the Università Cattolica del Sacro Cuore in 1966 as Annali della Scuola superiore di giornalismo e mezzi audiovisivi, it became Annali della Scuola Superiore delle Comunicazioni Sociali in 1967. As Comunicazioni Sociali it has been regularly published since 1979. The journal hosts monographic and miscellaneous issues on a variety of topics in the performing arts, film, radio, television, journalism, advertising, and digital media. The journal welcomes interdisciplinary perspectives and promotes rigorous debates on theory, history, critical analysis of media production and consumption, also from ethical and anthropological points of view.
CS is A-class rated journal by ANVUR (Italian National Agency for the Evaluation of the University and Research Systems) in the three academic disciplines: Cinema, photography and television (L-ART/06), Performing arts (L-ART/05), and Sociology of culture and communication (SPS/08). The journal obtained an international recognition by the French AERES - Agence de l'évaluation de la recherche et de l'enseignement supérieur, being listed between its information and communication sciences journals. CS is included in the IATJ database – International Archive of Theatre Journals, also accessible on the IFTR - International Federation for Theatre Research's website. In 2016 CS was accepted into Elsevier's international indexing database Scopus.
Theatres and politics today. Lights and shadows of a long relationship
Theatre, in its multiple forms of production – which is why we will use, hereafter, the word "theatres" in the plural, has always been an expression of the relationship between civic society, political power, and the way in which people express themselves through individual and collective performances. Thus, from the very beginning, theatres have been considered an art available to the community with the three possible functions of acceptance of the status quo, protest against existing regimes, and entertainment. At some turns in history, theatrical performances have even taken on explicit political stances of protest and criticism, or propaganda and consensus-building, reaching sometimes forms of outright militancy by affiliation to parties or forms of government (Ponte di Pino 1996, Dalla Palma 2001, Kershaw 2002, Ferrarotti 2007, Rancière 2008, Casi and Di Gioia 2012, Mango 2012, Badiou 2015, Bernardi 2015, Eckersall and Grehan 2019, De Marinis 2020, Hamidi-Kim 2014 and 2020). Moreover, if we assume, as we propose, a broad and performative notion of theatre practices (Schechner 2018), that includes games, feasts, celebrations, street demonstrations, happenings, performances in public spaces and events, then the connections between performing arts and practices (on one side) and politics (on the other) become all the more numerous. In this perspective, theatres are an intermediate process of interaction between representative and delegated power systems and their delegating subjects. A veritable media that has helped both parts of the power relationship, in spite of the complexities encountered, to shape the dynamics of collective well-being.
Permanent CFP
Since 2013, the traditional monographic section of each issue of Comunicazioni Sociali has been supplemented by a miscellaneous section. The call for papers for the miscellaneous section is always open. Contributions will undergo the same double-blind peer-reviewing process of the monographic section. Since its inception, CS has been contributing on key debates of studies on theatre, cinema, radio, television, journalism, advertising and digital media. The journal has promoted a rigorous reflection on theory, history and critical analysis of media, communications and performance arts. It continues to be a fundamental voice within the debate on the more recent and controversial questions of communication (from ethics to anthropological design) drawing on theoretical reflection and historical analysis, as well as from the proceedings of empirical research.
COMUNICAZIONI SOCIALI - 2020 - 3. Saving the Planet Bit by Bit: Environmental Communication in the Digital Age
In recent decades, digital communication and sustainability have become central topics in the global public discourse. Since the Nineties, debates about the role of computer-mediated communication in forming opinions and about human activity's impact on the environment have been rising. "Mediatisation" of the modern society enhanced the importance of studying social processes' communicational aspects, such as environmental sustainability's management. In the West, in fact, after World War II mass media have become more and more instrumental to the creation of an environmental awareness conceptualising the environment as we understand it today.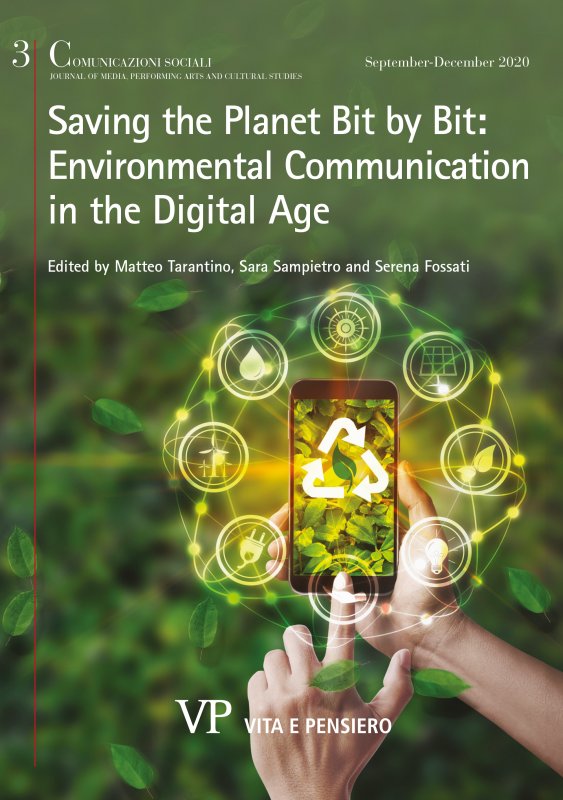 Latest issue
Anno: 2020 - n. 3
Browse the archive
Recent issues
Available online
2020

issues