Elena Di Raddo
Author's books
La verità mediata. Comunicazione politica e arte nell'era digitale
digital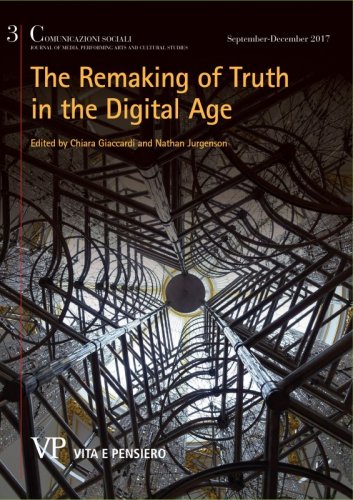 format:

Article

| COMUNICAZIONI SOCIALI - 2017 - 3. THE REMAKING OF TRUTH IN THE DIGITAL AGE
| Open Access
Since the 1960s, art has often addressed the ambiguous way the media interpret reality. However, artists have adopted different strategies, also determined by the technological changes in communication. During the 1960s and 1970s, artists linked with Visual Poetry declared a "semiotic war" against the language of mass communication, that aimed to "reveal" its forms of mystification...
Tra scena e arte digitale. L'esperienza del teatro nella videoarte attuale
digital
format:

Article

| COMUNICAZIONI SOCIALI - 2010 - 2. Teatro e arti visive. Intersezioni dell'ultimo Novecento
RÉSUMÉ Dans ces dernières décennies, même si apparemment lointains, le mondes du théâtre, qui a à son centre le corps de l'acteur qui agit en présence d'un public, et celui de la vidéo qui est enregistrement numérique des images, ont comblé l'écart, réunis sur scène (dans des expériences de théâtre-vidéo) ou dans la dimension dramaturgique (dans la production d'oeuvres vidéo). L'entrée de la technologie numérique dans l'art a en effet conduit à la matérialisation des images, ce qui à porté à leur jouissance sensorielle. Dans certaines installations vidéo on a établi une sorte de vraie relation physique entre le corps de l'utilisateur et les images projetées. A travers l'analyse de cas exemplaires, dans l'essai il ya trois modalités qui peuvent définir la relation d'aujourd'hui entre art vidéo et théâtre. Le premier aspect est l'utilisation de 'théâtralité' dans le travail d'artistes qui utilisent l'art vidéo comme lieu complémentaire d'actions de performance, ayant ses racines dans les expériences du théâtre vidéo des années quatre-vingt. Il y a aussi des oeuvres vidéo qui ont pour objet même de leur enquête le théâtre et donc ne se servent pas de la théâtralité comme d'un moyen de véhiculer des messages, mais tautologiquement concentrent leur enquête sur la dynamique du théâtre même. Le dernier point émerge finalement des oeuvres d'art vidéo qui ont une forte composante théâtrale et qui utilisent le théâtre pour obtenir une communication plus explicite et plus émotionnelle. SUMMARY In recent decades, though seemingly distant, the worlds of theatre, which has in its centre the body of the actor who acts in the presence of an audience, and that of video, which is made of digitally recorded images, have closed the gap, meeting on stage (in the video-theatre experience) or in the drama dimension (in the production of video works). The entrance of digital technology in art has in fact led to a materialization of images, and consequently to their sensory enjoyment. In some video installations there is a real physical relationship between the body of the user and the projected images. Through case analysis, in the essay we can identify three ways in which the relationship between video art and theatre can be defined. The first aspect is the use of 'theatricality' in the work of artists using video art as a complementary stage for performance events, and having their roots in the experiences of video theatre in the Eighties. There are also video works relating to theatre as the object of a survey, which therefore do not use theatricality as a means to convey messages, but tautologically focus their investigation on the dynamics of theatre. The last aspect finally emerges from video art works having a strong theatrical component, and therefore use drama to obtain a more explicit and emotional communication.
COMUNICAZIONI SOCIALI - 2013 - 2. Play the aesthetics. Video game between art and media
digital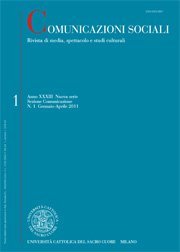 format:

Digital issue

Numero due del 2013 della rivista "Comunicazioni Sociali"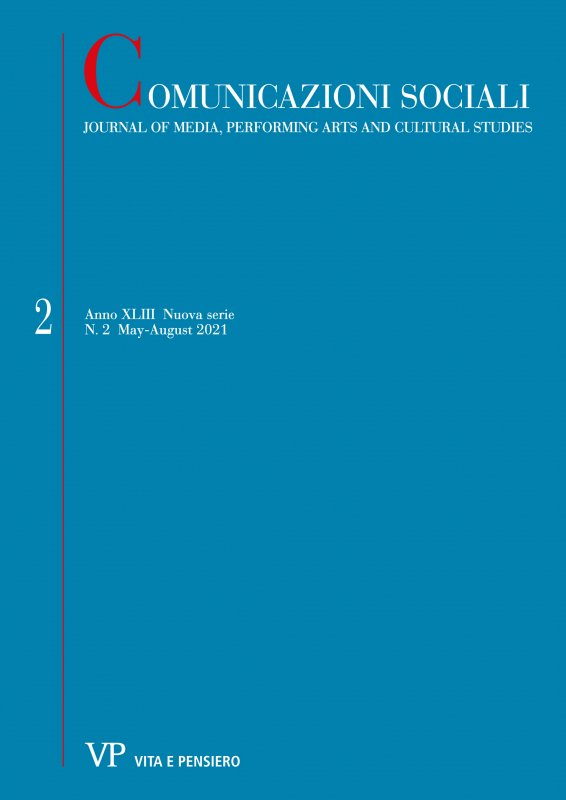 Latest issue
Anno: 2021 - n. 2
Browse the archive
Recent issues
Available online
2021

issues