Fashionating Images. Audiovisual media studies meet Fashion
This special issue aims at exploring the encounter and intersection between fashion studies and media studies, with particular reference to visual and audiovisual products, e.g. cinema, television, advertising and digital media. We encourage scholars from the fields of both audiovisual media and fashion studies to explore this intriguing intersection and the new horizons of audiovisual fashion. We particularly welcome contributions that discuss how audiovisual studies and fashion studies can cross-fertilize each other and expand the theoretical framework of each approach.
Continue

>
Snapshot Culture. The Photographic Experience in the Post-Medium Age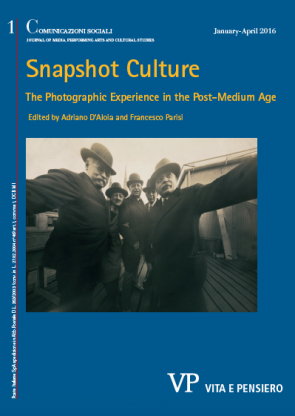 From the 2000s onwards, various social and technological events made photography more accessible, ubiquitous, public, cheap, democratic, immediate and shared than ever before, paving the way to a renewal of photographic experience. The editors of this issue, Adriano D'Aloia and Francesco Parisi, propose the term 'snapshot culture' to refer to the combination of technological, aesthetic and practical shifts in contemporary photographic scenario.
Continue

>
Being Humans. The Human Condition in the Age of Techno-Humanism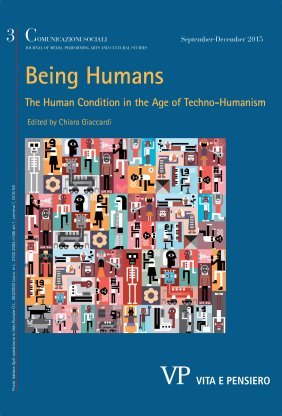 Technological artefacts that only twenty years ago were but evocative objects have now become ordinary presences in our life: from artificial implants to mass cosmetic surgery and body manipulation, from new forms of permanent media interconnection to interaction with artificial intelligences. Hence a number of new crucial questions arise, related to our living together in the age of post-humanism. Nowadays, when technology is no longer a tool, or even just an environment, but is wearable and incorporated, and can act retroactively on the very structure of the organism, what are the main challenges we have to face, and the main narratives for making sense of this new human condition?
Continue

>
TV Genres in the Age of Abundance. Textual Complexity, Technological Change, Audience Practices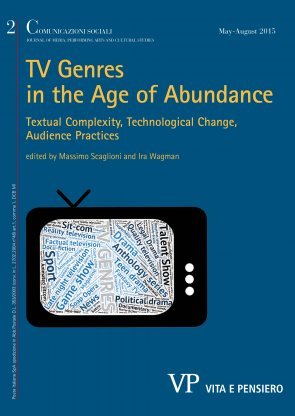 The concept of "genre" generally points to the question of how to understand a text in relation to others, and this framework is a legacy of traditional approaches in literature found within the humanities, from the Aristotelian distinction between tragedy and comedy to the classic "universal archetypes" described by Northrop Frye. In what ways is a text (a novel, a film, a tv program…) similar or different to others around it? Why does that matter? What is the value in separating texts from each other? The answers to these questions play an important role in helping understand many aspects of the production, distribution and reception of various kinds of media texts. This special issue of Comunicazioni Sociali, edited by Massimo Scaglioni and Ira Wagman, gives attention to questions of genre the study of television.
Continue

>
Bodies exposed. Dramas, practices and mimetic desire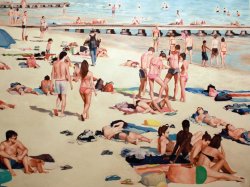 In the past, in Italy, the "exposed", also called foundlings, were the infants or young children abandoned by unknown parents to the care of the Church or of public services. Those exposed children are a powerful reminder of the wider condition of the human beings who for many years from birth are incapable of looking after themselves and are so "exposed", vulnerable, totally open to all perils and even to death unless someone takes constant care of them.
Continue

>
Sixty years of Italian TV. The Medium's Past and Future
The RAI, Radiotelevisione italiana, turned sixty in 2014, having officially started broadcasting on 3 January 1954. That day, TV arrived in Italy. Sixty years of history is a great deal, a very great deal in technological timescales. In just under a decade, digital media and the Internet have changed TV radically. The articles in CS issue no. 1/2015 "Sixty Years of Italian TV. The Medium's Past and Future" (edited by Aldo Grasso) discuss Italian television's sixty-year history from a cultural-history perspective, illuminating several questions that have become crucially important in directing the rapid process of institutionalizing the small screen in Italy and then some of its main subsequent changes.
Continue

>
Being Humans. The Human Condition in the age of techno-humanism: representations, practices, experiences
The long-running debate on Post-humanism is now entering a new phase: after the analysis of technological imaginaries and 'frontier cases' that informed the field during the '90s, scholars' attention is now progressively focusing on more common technological artefacts, social practices and socio-technological assemblages that seem to redefine the boundaries of what was traditionally conceived as "human".
Continue

>
Snapshot culture. The persistence of the photographic experience in post-media aesthetics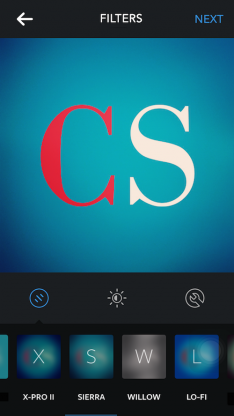 The contemporary mediascape is characterized by continuous and endless remediation flows that re-shape and hybridize the contents, the forms and the vehicles of visual-based media experience. In such a scenario, over the last years photography has gained a central role in negotiating between the need for innovation propelled by digital media and the persistence of its original nature and purposes.
Continue

>
(En)gendered creativity. Actors Agencies Artifacts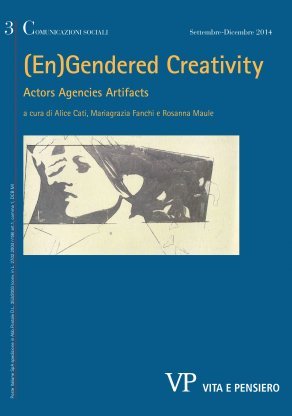 The recent debate on "creative industries" – words that have substituted/are substituting the more traditional notion of "cultural industry" into media, economic, cultural and aesthetics debate – denounces the resilience of gender "differences" (understood both as specificities as inequalities) into generating processes. CS special issue no. 3/2014 (edited by Alice Cati, Mariagrazia Fanchi and Rosanna Maule) aims to explore the many features that gendered creativity assumes: its genesis, its expressions, its effects, both negative and positive.
Continue

>
Television Genres in the Age of Abundance
The arrival of digital technologies was supposed to spell the end of the line for television, the most dominant medium of the last half of the twentieth century. However, the opposite has happened -- there is more television than ever before and, as Toby Miller recently put it, "people like it more than ever". As a result, many people have rushed to characterize what has become of the medium. This special issue is devoted to making sense of how television genres have changed and adapted in an era where more television is more abundant than ever.
Continue

>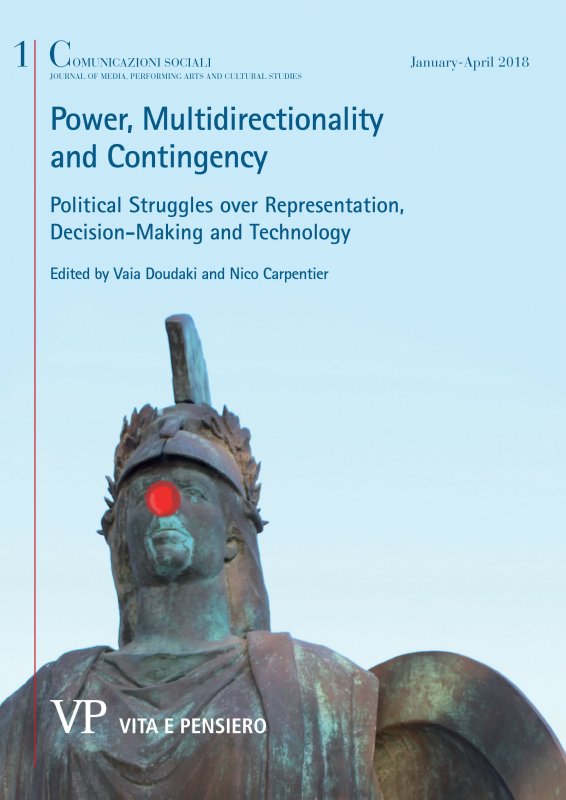 Latest issue
Anno: 2018 - n. 1