Snapshot Culture. The Photographic Experience in the Post-Medium Age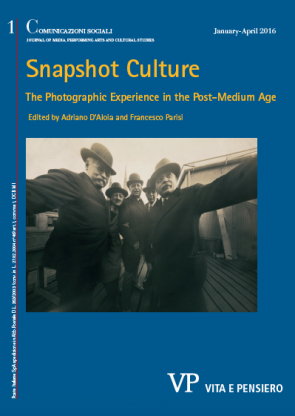 From the 2000s onwards, various social and technological events made photography more accessible, ubiquitous, public, cheap, democratic, immediate and shared than ever before, paving the way to a renewal of photographic experience. The editors of this issue, Adriano D'Aloia and Francesco Parisi, propose the term 'snapshot culture' to refer to the combination of technological, aesthetic and practical shifts in contemporary photographic scenario.
Continue

>

Being Humans. The Human Condition in the Age of Techno-Humanism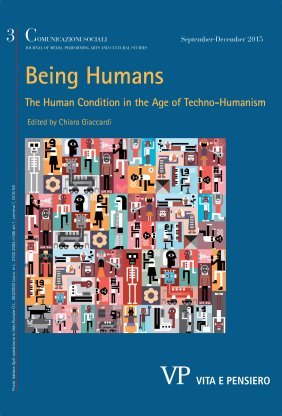 Technological artefacts that only twenty years ago were but evocative objects have now become ordinary presences in our life: from artificial implants to mass cosmetic surgery and body manipulation, from new forms of permanent media interconnection to interaction with artificial intelligences. Hence a number of new crucial questions arise, related to our living together in the age of post-humanism. Nowadays, when technology is no longer a tool, or even just an environment, but is wearable and incorporated, and can act retroactively on the very structure of the organism, what are the main challenges we have to face, and the main narratives for making sense of this new human condition?
Continue

>

TV Genres in the Age of Abundance. Textual Complexity, Technological Change, Audience Practices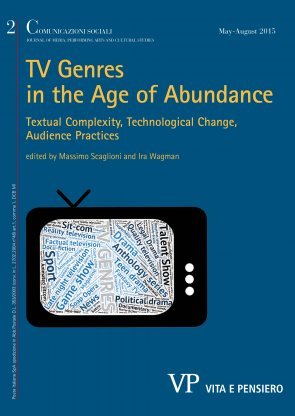 The concept of "genre" generally points to the question of how to understand a text in relation to others, and this framework is a legacy of traditional approaches in literature found within the humanities, from the Aristotelian distinction between tragedy and comedy to the classic "universal archetypes" described by Northrop Frye. In what ways is a text (a novel, a film, a tv program…) similar or different to others around it? Why does that matter? What is the value in separating texts from each other? The answers to these questions play an important role in helping understand many aspects of the production, distribution and reception of various kinds of media texts. This special issue of Comunicazioni Sociali, edited by Massimo Scaglioni and Ira Wagman, gives attention to questions of genre the study of television.
Continue

>

Sixty years of Italian TV. The Medium's Past and Future
The RAI, Radiotelevisione italiana, turned sixty in 2014, having officially started broadcasting on 3 January 1954. That day, TV arrived in Italy. Sixty years of history is a great deal, a very great deal in technological timescales. In just under a decade, digital media and the Internet have changed TV radically. The articles in CS issue no. 1/2015 "Sixty Years of Italian TV. The Medium's Past and Future" (edited by Aldo Grasso) discuss Italian television's sixty-year history from a cultural-history perspective, illuminating several questions that have become crucially important in directing the rapid process of institutionalizing the small screen in Italy and then some of its main subsequent changes.
Continue

>

(En)gendered creativity. Actors Agencies Artifacts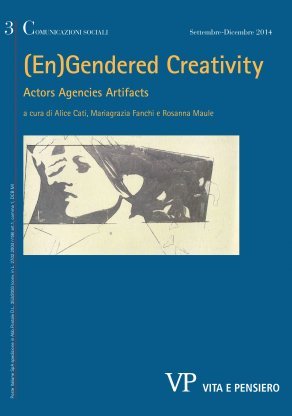 The recent debate on "creative industries" – words that have substituted/are substituting the more traditional notion of "cultural industry" into media, economic, cultural and aesthetics debate – denounces the resilience of gender "differences" (understood both as specificities as inequalities) into generating processes. CS special issue no. 3/2014 (edited by Alice Cati, Mariagrazia Fanchi and Rosanna Maule) aims to explore the many features that gendered creativity assumes: its genesis, its expressions, its effects, both negative and positive.
Continue

>

Narrating the Thresholds of Life. The Bioethical Themes of Beginning and End of Life in Cinema and TV series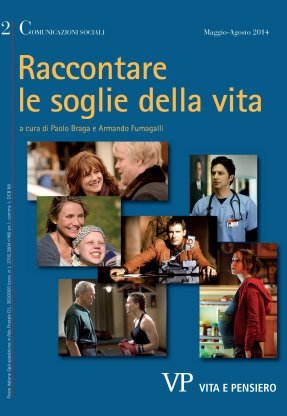 The issue 2/2014 addresses the subject of cinematic storytelling on bioethical matters through textual analyses of mainstream films, from studio features that have gained a relevant place in contemporary popular culture to independent or partially independent movies, to TV series targeted to selected audiences. The essays devote great attention to how the product of storytelling relates to reality from different disciplinary perspectives (the screenwriting theory and the theory of adaptation to screen, the study of the literary influences, law and bioethics) focusing on the choices that characters made when such issues as giving birth and dying are at stake.

Continue

>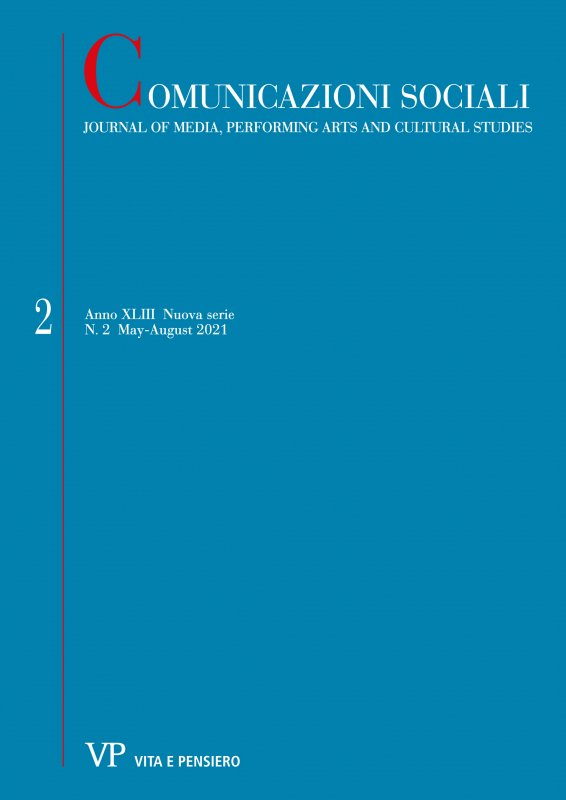 Latest issue
Anno: 2021 - n. 2
Browse the archive
Recent issues
Available online
2021

issues