Search results
Emerging topics in the research on digital audiences and participation. An agenda for increasing research efforts
digital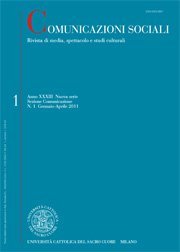 format:
Article
| COMUNICAZIONI SOCIALI - 2013 - 3. The responsibility of knowledge. The values of critique and social relevance in research on communication and culture
This article discusses the many implications of participation in a cross-media scenario where...
Le tendenze emergenti in tema di comunicazione d'azienda nella letteratura anglosassone
Emerging trends in total business communication in the Anglo-Saxon literature
digital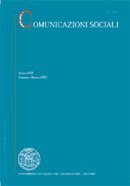 format:
Article
| COMUNICAZIONI SOCIALI - 2005 - 1. La comunicazione totale d'azienda nel contesto internazionale
The strategic role acquired by communication in the governance of businesses is testified to by the considerable interest shown in its organizational and administrative issues by both the academic environment and the managerial world. In English-speaking countries the centrality acquired by business communication has become particularly evident in recent years through the number and importance of the studies (books, scholarly and management magazines and research projects) that have explored its main trends. The objective of the present contribution is to illustrate and analyze briefly some of the principal tendencies that emerge in studies with an Anglo-Saxon matrix in the field of business communication in the early years of the twenty-first century. In particular it concentrates on analysing the tendencies from which emerges the role of communication as a set of activities and instruments rationally employed and managed in a coordinated and synergic manner so as to attain a multiplicity of objectives in relation to a plurality of stakeholders, in harmony with the development of a total communication approach.
Refine the search
Browse the archive
Recent issues
Available online
2019

issues