Search results
Le prigioni del linguaggio pubblicitario. E alcuni piani internazionali di fuga
digital
format:
Article
| COMUNICAZIONI SOCIALI - 2011 - CSonline 4. Carceri. Cinema, televisione, teatro, videogame, pubblicità
Il carcere, di per sé, non sembra presentare alcuna caratteristica atta a un suo efficace utilizzo come location per uno spot pubblicitario contemporaneo...
Donne rapaci. Modelli femminili tra cinema e pittura negli anni Dieci
digital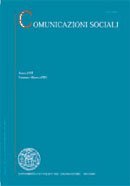 format:
Article
| COMUNICAZIONI SOCIALI - 2007 - 2. Genere e generi. Figure femminili nell'immaginario cinematografico italiano
The bond which has been tied between cinema and visual arts in the first decades of the last century finds its paradigmatic expression in the ways of representing women. The comparison between the woman-owl interpreted by Pina Menichelli and Marchesa Casati's pictures immortalized by Boldini's brush highlight the strong and lively exchange among expressive forms and give back an idea of unconventional and eccentric femininity. This model meets the need of the cinema to accredit itself as a new form of art (highlighting the closeness with painting and literature, evidence of that complex system of referrals among 'media' which will consolidate in the following decades), more than the intention of conveying a different, more modern concept of woman.
Lo spazio dei giardini nel Settecento come spazio teatrale. L'esempio del Nymphenburg a Monaco di Baviera
digital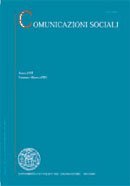 format:
Article
| COMUNICAZIONI SOCIALI - 2006 - 2. Immagini dello spazio e spazio della rappresentazione. Percorsi settecenteschi fra arte e teatro
Nymphenburg castle was born as an Italian style villa, namely a summer residence, after the wish of Princess Adelaide of Savoy, mother of Maximilian II Emanuel, and it was built by Italian Architects (Antonio Barelli, Enrico Zuccalli and Antonio Viscardi). Starting from 1715, when Prince Maximilian II Emanuel came back to Munich from his exile in France, the park next to the castle was enriched with plastic decorations, with the building of three original castles (Pagodenburg, Badenburg, Amalienburg) and with the Magdalenenklause. For this reason the garden architect Dominique Girard, disciple of Le Nôtre was called from Paris. The purpose of this article is to reconstruct the baroque genesis of Nymphenburg gardens and to explain the theatrical elements in line with the complex court ceremonial of Maximilian II Emanuel, the founder and true director of the garden decoration. We will see how the Nymphenburg gardens, expression and concrete realization of the XVII century 'Bequemlichkeit', propose a life pattern essentially intended as comfortable living (large spaces and gardens) and as contact with nature mediate by fantasy (architecture and botanic). In order to understand the planning criterions on which is based the creation of the theatrical scenery of Nymphenburg gardens, we will look into the ideology of its inspirer. Prince Maximilian II Emanuel pursued ambitious political objectives, and he needed to publicly show his expectations of power and glory. These expectations were expressed through a hyperactivity in the building of castles and suburban villas such as Schleissheim and Nymphenburg and through the design and preparation of magnificent gardens, in line with the theatrical and representative rococo spirit. One of the greatest landscapists of the XVIIIth century, Venetian Bernardo Bellotto, during his continuous roving among European courts, dedicated a wonderful view to Nymphenburg castle, which shows well the theatrical use of garden space, where natural elements are artfully arranged for the pleasure of our sight and for the comfort ('Bequemlichkeit') of the court's life.
Refine the search
Browse the archive
Recent issues
Available online
2019

issues