Narrating the Thresholds of Life. The Bioethical Themes of Beginning and End of Life in Cinema and Tv Series
n. 2/2014 - Edited by Armando Fumagalli and Paolo Braga
Over the last few decades, the idea that the narrative elaboration of moral issues is a breeding ground for the development of the ethical debate has encountered increasingly positive reception within the philosophical studies. This assumption has gathered consensus among different theoretical positions, endorsing the narrative thinking as a preferential way to our self-definition as human beings and moral subjects (MacIntyre 1984; Ricoeur 1990; Nussbaum 1996). 
Owing to its capacity to produce an identification with the characters and to activate our moral as well as the rational spheres, a narration is widely considered an exceptionally favourable ground for the simulation of ethical practices; a ground that consents to take into account all human factors involved in problematic choices of behaviour, due to the conflicting values at stake.  
An important contribution to the reassessment of the connection between narration and moral exploration comes from narratology and literary theories, which in fact introduced this perspective - consider with this regard the pioneering works of the Chicago critics and Wayne Booth's studies (1983; 1988). This branch of research has recently been reinvigorated by the development of screenwriting theories, whose chief exponents (McKee 1997; Truby 2007), in complete accordance with the declarations of several filmmakers and TV executives, emphasise the prominence of the thematic dimension, i.e. the in-depth analysis of the axiological junctions inside a narrative, to make it engaging and satisfying for the audience.
Also – although they're still a limited number – researches on the dominant cultures within the circle of the media decision-makers highlighted how creative production originates from the common aspiration of screenwriters and filmmakers to question and communicate value-related issues (Bettetini-Fumagalli 2010; Shapiro 2011; Fumagalli 2013).        
In this perspective, in consideration of the growing interest in the expressive and educational potential of films based on bioethical themes (Cattorini 2006; Dalla Torre 2011; Shapshay 2011), proposals may address the following questions, combining theoretical considerations and concrete textual analyses:
-       The prevailing narrative strategies implemented in the treatment of the beginning and end of life issues (pre-birth decisions, abortion, assisted fertilization, euthanasia, therapeutic obstinacy).
-       The activation and sedimentation of archetypes (narrative modes, character types) responsible for building up the collective imagery in relation to the topics at stake;
-       The ideological justification (implicit or explicit) of certain solutions/positions at the expense of others.
-       The influences that on many levels – cultural, productive, distributive, creative – affect the mise-en-scene of life-related themes and the point of view through which those themes are addressed in cinema and TV.
All proposals should refer to the following areas: rhetoric, screenwriting theory, narratology, dramaturgy, media sociology, semiotics, cinema studies, media theory, media studies, bioethics, moral philosophy.
Papers can either focus on the analysis of specific feature films or (episodes of) TV series, or they can tackle an issue more widely, in order to cast a new light on some open question. Nonetheless, the analysis of specific texts will be considered more in line with the slant of this publication.
Submission of proposals
The abstracts (no longer than 250 words, in English, French or Italian – bibliographic references excluded) must be sent by 20th September 2013 to this email address: paolo.braga@unicatt.it
Notifications of acceptance will be sent no later than October 5th, 2013.
The approved papers (between 4000 and 5000 words – bibliographic references included) must be delivered by 20th January 2014; subsequently they'll be submitted to a double blind peer review.
Papers are accepted in Italian, French and English language.
Main references
G. Bettetini, A. Fumagalli. 2010. Quel che resta dei media. Idee per un'etica della comunicazione, Milano: FrancoAngeli.
W.C. Booth. 1983. The Rhetoric of Fiction, 2nd edition, Chicago: The University of Chicago Press.
W.C. Booth, 1988. The Company We Keep. An Ethics of Fiction, Berkeley, California [etc.]: University of California Press.
P. Cattorini. 2006. Bioetica e cinema. Racconti di malattia e dilemmi morali, Milano: FrancoAngeli.
P. Dalla Torre. 2011. Cinema contemporaneo e questioni bioetiche, Roma: Edizioni Studium.
A. Fumagalli. 2013. Creatività al potere: da Hollywood alla Pixar passando per l'Italia, Torino: Lindau.
A.C. MacIntyre. 1984, second edition. After Virtue. A Study in Moral Theory, Notre Dame, Indiana: University of Notre Dame Press.
R. McKee. 1997. Story. Substance, structure, style, and the principles of screenwriting, New York: Harper Collins; trad. it. 2000. Story: contenuti, struttura, stile, principi della sceneggiatura, Roma: International Forum Edizioni.
M.C. Nussbaum. 1995 Poetic Justice. The Literary Imagination and Public Life, Boston: Beacon Press.
Ricoeur, 1990. Soi-même comme un autre, Paris: Seuil.
S. Shapshay (ed.). 2009. Bioethics at the Movies, Baltimore: The Johns Hopkins University Press.
B. Shapiro. 2011. Primetime Propaganda, New York: Broadside Books.
J. Truby. 2007. The Anatomy of Story. 22 Steps to Becoming a Master Storyteller, New York: Faber & Faber.
Article read 657 times.
Post a comment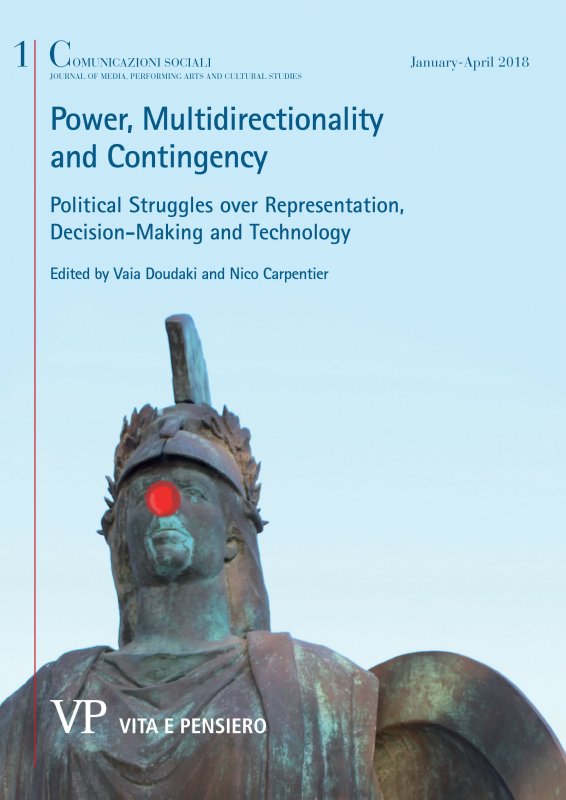 Latest issue
Anno: 2018 - n. 1