When Personal Becomes Collective: Taqwacore's Audiovisual Authenticity and the Actualisation of an Imagined Community
digital
Ebook format Pdf readable on these devices:
RIASSUNTO
Per quanto effimero il fenomeno del taqwacore, sottogenere del punk americano caratterizzato dalla rivendicazione da parte dei suoi partecipanti delle proprie radici islamiche, ha ricevuto negli ultimi anni una considerevole attenzione a livello accademico, soprattutto per la sua vicinanza con nuclei tematici quali la negoziazione tra identità culturali differenti, la fobia verso i musulmani dopo l'11 settembre, la resistenza alle visioni più conservatrici delle relazioni tra Oriente e Occidente. L'articolo si concentra su due recenti prodotti audiovisivi dedicati a questo genere musicale, il documentario di Omar Majeed Taqwacore: The Birth of Punk Islam (2009) e la trasposizione cinematografica del romanzo di Michael M. Knight The Taqwacores diretta da Eyad Zahra (2010), alla ricerca delle modalità con le quali viene elaborato il valore dell'autenticità attraverso un uso strategico degli elementi sonori e visivi. L'analisi di questi due lungometraggi cercherà di sottolineare in quale modo venga rappresentata la trasformazione di una comunità immaginata in una realtà concreta, ricostruendo il ruolo della rappresentazione audiovisiva a livello sintattico e semantico in tale contesto.

SUMMARY
However ephemeral the taqwacore phenomenon might be, a subgenre of American punk characterized by its participants' claim to their Islamic roots, it has received over the last few years much attention from the academic environment, especially for its closeness to such themes as the negotiations between different cultural identities, the phobia against the Muslim after September 11th, the resistance to the most conservative visions of relations between East and West. The article focuses on two recent audiovisual products to highlight how the value of authenticity is elaborated through a strategic use of audio and visual elements: the documentary by Omar Majeed Taqwacore: The Birth of Punk Islam (2009) and the film transposition of the novel by Michael M. Knight The Taqwacores directed by Eyad Zahra (2010). The analysis of these two feature films will underline the textual elements representing the transformation of an imaginary community into a concrete reality, piecing together in this context the role of audiovisual representation at a syntactic and semantic level.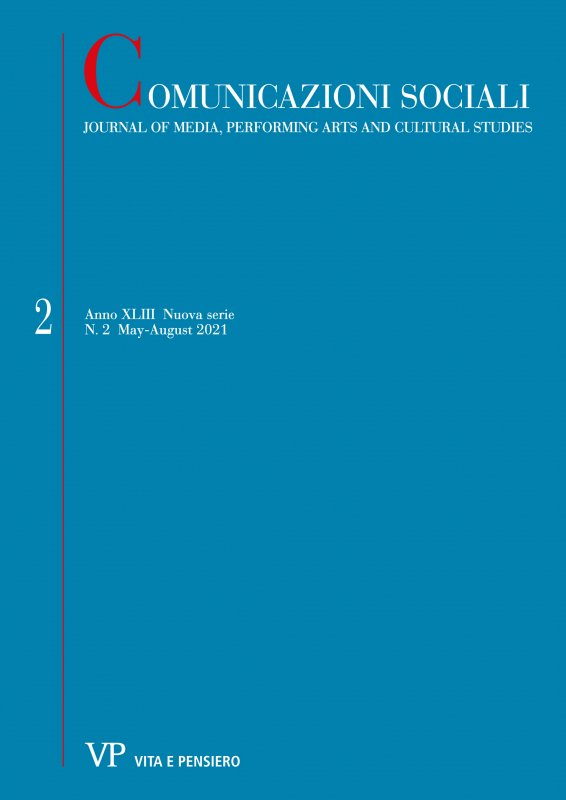 Latest issue
Anno: 2021 - n. 2
Browse the archive
Recent issues
Available online
2012

issues