City of Strangers Le città multimediali e multi-identitarie di Krzysztof Wodiczko
new
digital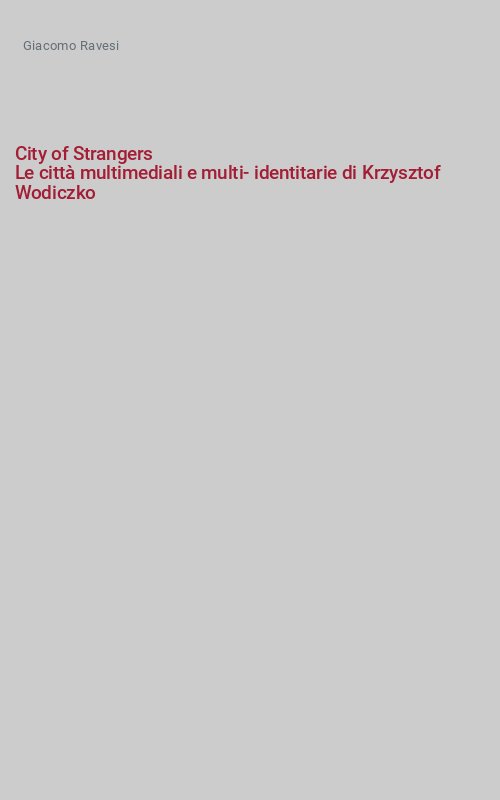 Ebook format Pdf readable on these devices:
The article focuses on the case study of the Polish video artist Krzysztof Wodiczko: internationally known as an emblematic example for a reflection on the relationships between urban space, identity and technological advances. Born in Poland in 1943, migrated first to Canada in 1978 and then to the United States in the 1990s, Wodiczko is today a world-class artist and director of the Center for Advanced Visual Studies of MIT. Given his emigrant status as well as the ever-influential spread of xenophobic policies at a global level, Wodicko has focused in his research a particular interest in social exclusion by electing the social outcast to undisputed protagonists of his works: from homeless to war veterans and military veterans, from exploited workers to victims of family violence, from disabled to drug addicts, from homosexuals to women to foreigners. Since the 1980s, the artist has created several installations in various European, American and Asian countries focusing on the representation of the foreigner and his/her communication with the local community within public spaces. Wodiczko's work, through video-mappings (The New Mechelenians, 2012; Sans-Papiers, 2006), portable technological tools (Alien Staff: Xenobàcul, 1992; Porte-Parole Mouthpiece, 1993; Ægis: Equipment for a City of Strangers, 1998) and video-installations (Guests, 2009; If You See Something..., 2005), construes the urban and architectural space as a scenographic mechanism that stages a synthesis between public and private and finds in the multimedia experience a sharing and a possibility of catharsis and liberation from individual and community traumas. The essay wants to chronologically retrace the significant works made by Wodiczko around the foreigner underlining a conceptual and representative evolution that interests in a peculiar way the urban landscape interpreted as a multimedia and multi-identity space. The methodology adopted is internal to Visual and Media Studies and integrates the field of culture and digital communication with proposals of media sociology. In Wodiczko's works the technological feature integrates the self-representation of the foreigner with the gaze of the local community, activating a process of negotiating identities, which develops collaborative and participatory expressive and relational practices. His project is to stimulate through the art a process of dis-alienation of these subjects, working around the representation of symbolic concepts such as domination, expulsion and collective awareness. According to the author, the only way to obtain such results is to influence the social sphere (Wodiczko considers himself a stranger to the sphere of art) basing his action exactly in the public space of the city, intended as an elective place to verify and transform the 'visibility' of the individual within the social recognition processes of the community. His works are recognized as public art because combines communication technologies with political and social activism.
keywords
Krzysztof Wodiczko; urban landscape; digital culture; identity; visual studies.
Author biography
Università degli Studi Roma Tre ‒ giacomo.ravesi@uniroma3.it.