COMUNICAZIONI SOCIALI - 2006 - 3. Spazi sensibili. Pubblicità, comunicazione e ambiente urbano
digital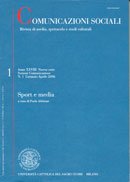 journal
COMUNICAZIONI SOCIALI
issue
3 - 2006
title
COMUNICAZIONI SOCIALI - 2006 - 3. Spazi sensibili. Pubblicità, comunicazione e ambiente urbano
editor
Piermarco Aroldi
Francesca Pasquali
publisher
Vita e Pensiero
format
Digital issue |

Pdf

Write a comment for this product
Ebook format Pdf readable on these devices:
I saggi raccolti in questo fascicolo intendono contribuire alla riflessione su un sistema mediale complesso e articolato come quello che, tradizionalmente, viene chiamato in italiano 'comunicazione esterna' e che, in questa denominazione, si trova indebitamente confinato entro i limiti stretti e riduttivi della cartellonistica e della cosiddetta pubblicità dinamica. In realtà, come emergerà anche dalla lettura dei saggi che seguono, si tratta di uno dei comparti della comunicazione pubblicitaria più innovativo e originale degli ultimi anni, in primo luogo nelle sue dimensioni linguistiche, ma anche nella capacità di affrontare alcune fra le più rilevanti sfide che si pongono a chi si trovi a operare nel campo mediale in questi anni.
ARTICOLI
Note su un discorso abitabile: la comunicazione esterna
by Piermarco Aroldi, Francesca Pasquali
pages: 4
€ 6.00
La messa in scena della merce nello spazio metropolitano: manifesti, vetrine e insegne luminose tra Otto e Novecento
by Simona De Iulio
pages: 22
€ 6.00
Abstract ∨
This essay provides a reconstruction of the reactions caused by the 1800's and 1900's spreading of the modern ways of displaying goods in the space. The witnesses of artists, writers and commentators of the period show how posters, shop windows and neon signs have changed the aspect of towns, introduced new expressive modalities, transformed the attitude towards the goods. Particularly, Simmel and Benjamin's analysis of the metropolis, point out how the outdoor communication tools expressed the values of modern aesthetics and marked the transition towards the consumption society.
Dall''outdoor' all''ambient advertising': quando lo straordinario invade il quotidiano
by Stefania Antonioni
pages: 15
€ 6.00
Abstract ∨
This paper analyzes urban space as one of the field of choice for contemporary advertising strategies and for their expression, in the light of the fact that following mass industrialization and the growth of the cultural industry it has become one of the places for the mirroring and full development of media operational logics. Therefore, the tracks found in urban spaces relate to the idea of spectacularization, which is declinated in multiple forms and employs various devices and languages, thus also showing the modification sustained over time by the semantization and fruition styles of the notion of space itself. In the light of all this, while the devices adopted by advertising communication within urban spaces are indeed related to the notion of spectacularization as they try to create stupor and involvement into citizens, outdoor's traditional form is nonetheless more and more changing in a relational and performative sense, thus leading to a re-definition of the traditional field of outdoor as ambient advertising. What appears to be an evolutive phenomenon - marking, on the one hand, the rejuvenation of billboarding through the advancement of available technology, and on the other a growing consonance with the need for entertainment and interaction expressed with the purpose of creating a more involving relationship with the passerby/spectator – has become, in current global urban scapes, a prominence, of which a series of examples and cases will be here presented.
Pubblicità fuori casa, ancoraggio del consumo. Per un'analisi della comunicazione 'out-of-home', fra testo e contesto
by Matteo Stefanelli
pages: 15
€ 6.00
Abstract ∨
An aspect of great interest offered to the media scholars by the so called out-of-home advertising offers, is its paradoxical cultural statute. On one side it is a primary promotional form, a protagonist of the advertising forms since its origins; thus an elusive form, the semantic boundaries of which seem to fringe in a myriad of practices not easy to textualize and/or not simplistically 'advertising', and which institutional policies seem to swing in an ambiguous zone between media and urban planning, environmental policies and street culture, media and non-media. To investigate out-of-home communication, it is necessary to seize the complexity of the interlacement between urban and advertising dimensions, communication and mobility processes, fruit of the intricate nature of the modernization phenomena which generated the town-form, and which arranged the symbolic and material exchanges diffused and institutionalized by the culture industry. Starting from this perspective, an out-of-home reading is proposed, together with a focus on the most relevant dimensions issued from the literature concerning the relationship among urban spaces, between consumptions and images and from a research lead by the Osservatorio sulla Comunicazione.
Sull'eterna discontinuità: ipotesi per una socio-semiotica della comunicazione esterna
by Matteo Tarantino
pages: 15
€ 6.00
Abstract ∨
In this essay we attempt a transversal investigation of some broad hypotheses for a socio-semiotic framing of the sign of outdoor communication. We try to demonstrate (using, among other tools, the dissonance theory paradigm) the ineludible condition of discontinuity of this sign, which forces it into a conflictual relationship with the surcodings affecting social and private spaces. Finally, we briefly examine two examples of surcodings designed to protect discontinuity itself: a sedimental one (London's Piccadilly Circus) and a preventive one (Amsterdam's Sandberg Institute).
Dal simulacro al reale: la natura performativa dell''outdoor'
by Marco Tomassini
pages: 12
€ 6.00
Abstract ∨
With respect to other forms of advertisement (television, radio, press and on-line), the sign of external communication characterizes for its ability to 'install itself' on the 'territory' in real terms. This allows the interaction of the public which is called to 'perform it' with different intensity, depending on the ability of the sign itself to 'involve' the body. In fact, if maps of the areas are needed to plan outdoor campaigns, namely simulacra able to 'simplify' their 'complexity' and to 'divide' their inhabitants into separate targets, it is also true that such 'maps' do not remain on a purely abstract level, but they 'stretch' until they overlap the territory at every point. In this way, the advertisement signs expose themselves to the same 'tactical uses' to which the urban structure is subjected. Such 'uses' can 'go beyond' the 'meaning' of their message, but in the meantime they contribute to load them with meanings that would otherwise be impossible to catch. Not by chance many of the latest outdoor campaigns moved towards a growing 'interactability' of the advertising sign, thus becoming an always more 'immersive' experience for its audience, at the same time 'spectator' and 'actor' of an out and out 'performance'.
'Outdoor performance', ovvero forme ed estetiche della comunicazione esterna. Un'analisi
by Laura Gemini
pages: 25
€ 6.00
Abstract ∨
This paper analyzes some forms of outdoor communication through the interpretative lens of performance, starting from the pre-assumption that, partly thanks to artistic activity and to the relative autonomy, it is possible to observe the construction of a communicative form diffused over the contexts of media production and of social expression practices. Beginning with a definition of performance as communicative practice – from its ritual origins to avant-garde and present-day artistic experimentations – the paper tries to demonstrate that performative artistic manifestations can be considered the expressive mold of many forms of outdoor communication, eventually reaching the definition – for descriptive purposes – of a small outdoor performance typology, referring to specific exemplificative cases. This typology includes cases involving the use of interactional dynamic between performers and participant spectators; the forms of festive performance, related to the organization of events; the so-called brand installations; and also cases featuring an active and creative involvement of the consumer/performer. A dimension which should be seen as a hook towards what can be considered, starting from performance, as a departure point for new relational dynamics between production and consumption, while also being related to the emerging fields of outdoor communication represented by technological networks and the world wide web.
Indice ragionato 2006 - Index 2006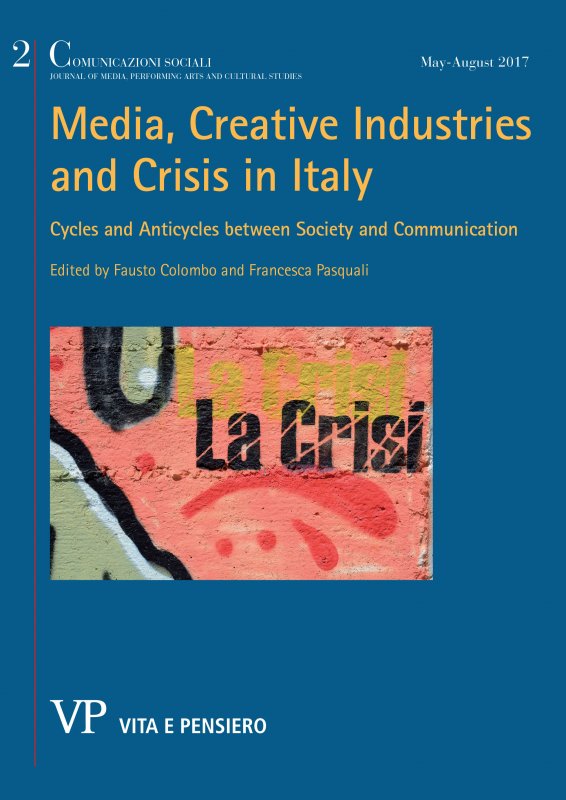 Latest issue
Anno: 2017 - n. 2
Browse the archive