Vita e Pensiero
COMUNICAZIONI SOCIALI - 2023 - 1. Gender and Labour in the Italian Audiovisual Industries. Critical Research Approaches and Methods
digital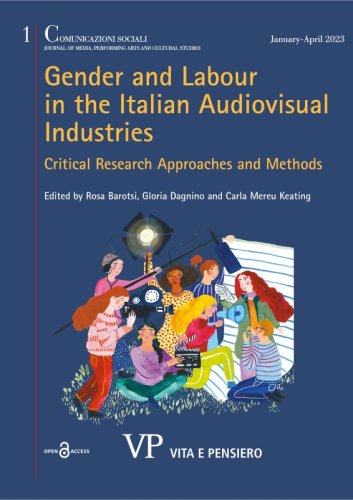 Primo fascicolo del 2023
INTRODUCTION On Method Building: A Half-Century of Research on Gender and Labour in the Italian Audiovisual Industries
digital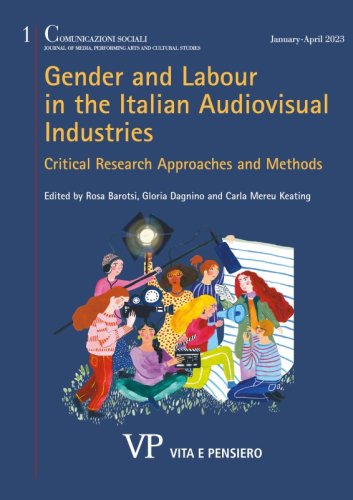 INTRODUCTION On Method Building: A Half-Century of Research on Gender and Labour in the Italian Audiovisual Industries by Rosa Barotsi, Gloria Dagnino and Carla Mereu Keating is licensed under CC BY-NC-ND 4.0
Paola Ojetti and Maria Basaglia: Two Women Workers in Fascist Italy's Cultural Sector
digital
Putting into dialogue scholarly studies on Italian Fascism with a wide range of newly identified film and media history resources, the authors reconstruct and compare the career paths of Paola Ojetti (1911-1978) and Maria Basaglia (1908-2000) in the 1930s and early-1940s, with a specific focus on their cinema-related activities such as dubbing, film criticism, screenwriting and on-set assistance. By shedding light on the microhistory level of professional routines and social interactions, the article seeks to contribute to a history of women workers in Fascist Italy's cultural sector grounded in the concrete life experiences of women intellectuals...
Women in Italian Film Production (1949-1976): Mid-Management Roles as Seen through Anica Data and Oral History
digital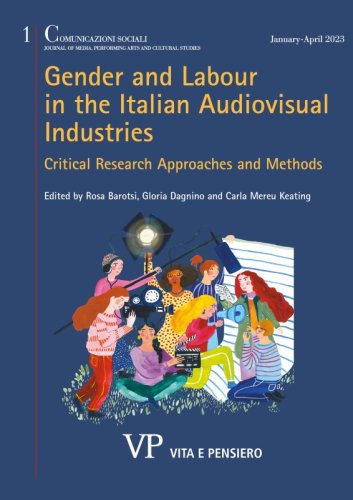 This contribution offers an overview of women's labour in the Italian film industry between 1949 and 1976, the chronological span examined by the PRIN 2017 project Modes, Memories and Cultures of Film Production in Italy. It applies a thematic criterion to organise data from the Anica database, which aggregates the credits of all feature films and documentary films produced and co-produced in Italy from 1930 onwards...
"Una ragazza che si arrangia:" Notes on the Film Producer Marina Piperno
digital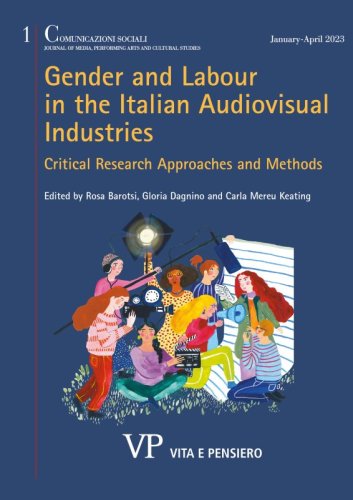 The article focuses on the figure and the activity of the producer Marina Piperno. Among the few women who had a leading role in the Italian film industry, Piperno was the sole administrator of the REIAC film production company and produced over two hundred works, including documentaries, industrial films, "caroselli", fiction films and television dramas. Her professional path can be considered "fuori norma" (non-standard) as it was marked by the need to claim her space not only as a woman in a male-dominated field but also as an independent producer interested in conceiving and implementing production practices alternative to those of mainstream cinema...
Women Working in Radio. Methodological Approaches Comparing Italy and the International Context
digital
For several years, studies on media production have cut radio work out of consideration. This is due to the structural and economic lightness of the audio medium, which employs fewer people than the audiovisual sector in percentage terms; it is also due to the flexibility of professional roles, which are often subject to reshuffling and overlapping; and finally, to an unstable factor in the evolutionary dynamics of the medium, which has continually changed formats, technologies and organisation models over the last century...
Women's Labour in TV Series Production: A Comparative Analysis of Italian Generalist TV and Pay Platforms (2016-2019)
digital
Influential European research on female representation and employment in the news media and audiovisual industry shows how the sector is dominated by strong gender inequality. Women's labour is under-represented, underpaid and characterised by high levels of precariousness. European audiovisual regulatory authorities are promoting an increase in gender representation both on- and off-screen through the analysis of existing industry-led practices and the development of non-legally binding recommendations...
Unsuitable Jobs for Women. Women's Behind-the-Scenes Employment and Female On-Screen Representation in Italian TV Crime Drama
digital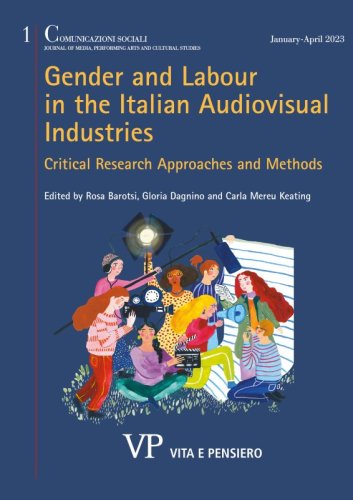 This article combines quantitative tools of social research, text-based analysis, and production studies to analyse gender equality and female labour in contemporary Italian TV crime drama. More precisely, we analyse the portrayal of female characters and women's employment in key behind-the-scenes roles in Italian TV crime dramas distributed from Fall 2015 to Summer 2022. The research has two main goals: first, to understand how crime narratives address gender equality and diversity from a twofold perspective – behind-the-scenes and on-screen; second, to understand if and how a sample analysis, targeting a specific case study, can provide general trends such as those coming from the analysis of broader datasets...
Heaven Can Wait? Gender (Im)balance in Contemporary Italian Film Crews
digital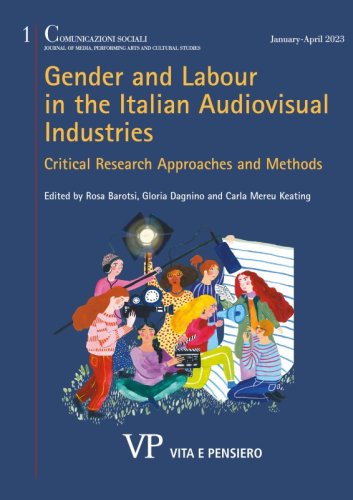 In the mid-to-late 2000s, the digitalization of film production in Italy carried a promise of increased diversity and cultural pluralism due to the lower entry barriers. About a decade later, in 2016, the so-called Franceschini law introduced a revision of the norms regulating public funding which included a mandate for greater inclusivity. Did these developments fulfill their promise? The article answers this question empirically by investigating the roles occupied by women within Italian film productions and co-productions that obtained clearance (nulla osta) for national theatrical distribution between 2017 and 2021...
Relational Feminist Practices On and Off-Screen: The Case of Amanda (2022) and Giulia (2021)
digital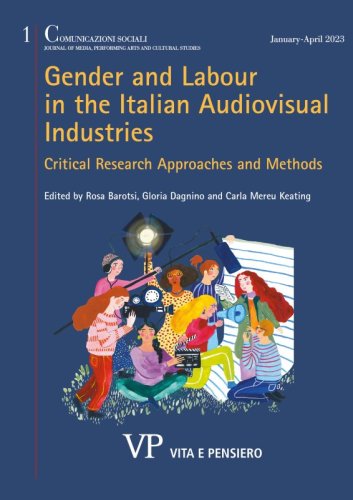 Current statistics presented at the most recent Annual Seminar on Gender Equality and Inclusivity in the Film Industry held at the 2022 Venice Film Festival reveal that the number of women working in the Italian film industry is increasing across professions at a very slow rate, and the growth seems to be primarily in highly specialised technical roles rather than in authorial ones. The detailed statistical work carried out by the research group led to the provocative question posed to a number of practitioners at the 2022 seminar: is cinema a sustainable career for women?
COMUNICAZIONI SOCIALI - 2022 - 3. Cantautore: the Songwriter in Culture and the Media
digital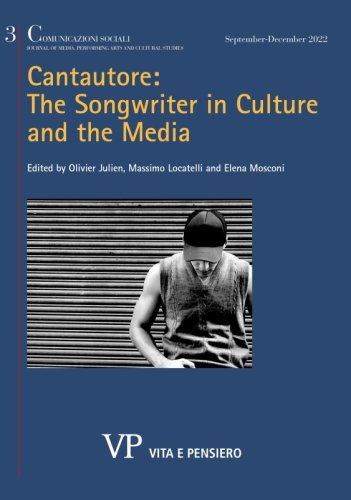 Ultimo fascicolo del 2022
Cantautore: The Singer-Songwriter in Context
digital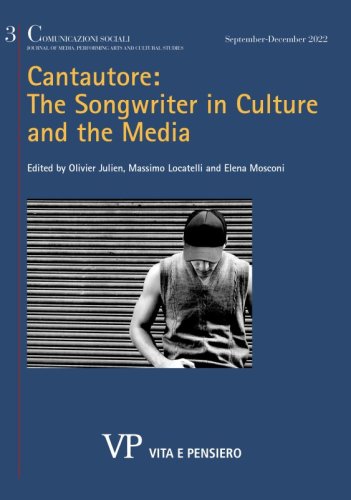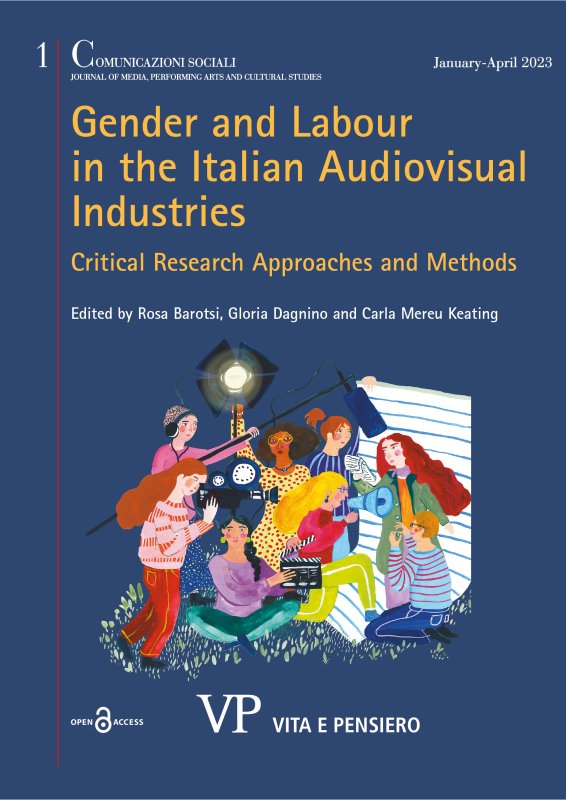 Latest issue
Anno: 2023 - n. 1
Browse the archive
Recent issues
Available online
2023

issues