Playing inclusion. The performing arts in the time of migrations: thinking, creating and acting inclusion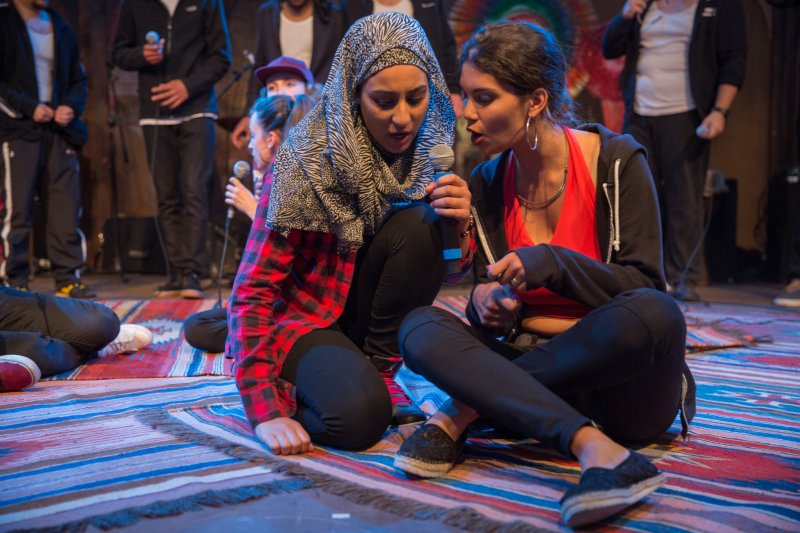 No. 1/2019 - Edited by Roberta Carpani and Giulia Innocenti Malini
Migrations are a structural outcome of globalisation. The temporary or permanent presence of growing numbers of foreigners, be it for reasons of tourism, labour, study, poverty or political asylum, poses several complex problems to the receiving countries, especially from a socio-cultural and political point of view.
Barring the two most radical solutions at the opposite ends of the spectrum (to receive all migrants vs to reject them all), migration policies tend to put to the test different models of cohabitation, citizenship and social cohesion. The prevailing ones appear to be the assimilation model, the integration model and the multiculturalist model.
However, growing xenophobic and populistic feelings are connected with the inadequacies of these models. Assimilation and integration theories, on the one hand, equally deny and disregard cultural differences and aim to make the "other" undistinguishable from the "self". Multiculturalism, on the other hand, does not recognise the possibility of any unity and cooperation.
The most convincing perspective would seem to be a policy of social inclusion. In its ideal definition, given by Jürgen Habermas, it is the opening of the subject, of his or her context, of the community and of the service system to everyone, and above all to those who are different and keen to remain so. Habermas' definition is however purely theoretical: how can it be translated into practice?
The migrants' partial inclusion, limited to the one field relevant to the individual migrant's contribution (labour, arts, education etc.) reveals the same limitations as the other models. It might therefore be necessary to conceive and implement inclusion as a process that brings into question all aspects of the social, institutional and political systems. A dynamic and changeable process, al ways in progress. Inclusion cannot be consigned to prescriptive roles or rules or obligations. It does, on the contrary, require the constant reinvention and fine-tuning of organisations and social and institutional contexts, with the purpose of giving everyone a sense of belonging through a process of mutual recognition, where the individual reasons, relationships and lives are connected with a common development path.
Inclusion is the form taken by life in society when it is founded on the belief that each and every individual member has his or her intrinsic value and at the same time he or she belongs to the community. This is the reason why inclusion must not be limited to the world of school or work, but must encompass all aspects of life, including games, leisure, political representation, health and environment.
The question of inclusion, from the point of view of theatrical studies, refers to the issue of intercultural relations, which is quintessential to the theatre since its origin. Firstly, inclusion has always been a dramaturgical topic, and secondly, interculturalism underlies the theatrical dynamics, understood as co-construction of a theatrical work through the relationship between actor and spectator, who each have their own distinctive cultural heritage and experiences.
Interculturalism has remained, however, confined to the world of theatre, producing hardly any effect on social politics and practices in an inclusive perspective.
Starting from this analysis and from the state of the art debate on these matters, this issue focuses on the artistic, social and political resources invested by the performative arts into socio-cultural inclusion, aimed at facilitating collective processes of dealing actively with the complexities generated by the recent migration trends.
Within this general framework, this issue would like to shed light in particular on:
The integration between professional and social theatre. The two macro-perspectives are considered taking into account their peculiarities but also their possible exchanges, interactions and contaminations. It has become apparent, as a matter of fact, that contemporary theatre, so performative and post-dramatic, looks up to social theatre and borrows its models, practices, working hypothesis, giving them a twist whose final results warrant a careful critical scrutiny and which requires an appropriate evaluation and historicisation. For its part, social theatre, after having sought and found its own identity, seems ready for more intense dealings with its professional counterpart, and appears to have acquired a strong sense of its own artistic and social standing. And finally, some theatrical experiences superimpose the two perspectives with results marked by a high degree of criticality, calling for a careful and unprejudiced analysis.
An attentive consideration of the various social fields where the two theatrical practices operate and interact. In the case of social theatre, the theatrical action involves specific groups, open to building different forms of elaboration of shared experiences and of planning new forms of citizenship. In the case of professional theatre, as it is currently addressed to wider audiences, it has the opportunity to bring the issue of migration to the core of the live representation: a crucial space where prejudices can be broken down, fake and propagandistic information can be uncovered, a real historical awareness of current affairs as well as of the past can be established, and the rights of migrants and their legal identity can be reflected upon. It can, lastly, contribute to the diffusion of a culture of inclusion rooted into the actions of individuals, communities and institutions alike.
A research into the performative arts produced by migrants, regarded as forms of co-authorship of the outmost importance for inclusion processes.
The consideration and study of the processes of performance conception and development, as their final result has to be seen in connection with logics integrated with the entire cultural, social, anthropological development that has produced them.
With reference to social theatre, the proposed papers are requested to investigate projects which, through the performative arts and festive practices, have produced processes of social inclusion and integration, analysing and documenting the developments, articulations, innovations, social and cultural impacts and generative powers thereof.
Preference will be given to essays presenting case studies of innovative practices, models and processes; or investigating the failures or inadequacies of current practices.
It is hoped that the types of performative arts presented will include theatrical practices pertaining to all forms and languages, from word to dance, but also festive practices in their widest sense. The three actions chosen for the title of this issue in connection with inclusion - thinking, creating and acting inclusion –, are the components of the unique process of social and political change to which contemporary theatre is requested to give its significant contribution because of its own original identity of political art, of art that cares for and takes care of the "polis". First of all, the human thought, with its peculiar graduality and weave, which is history, analysis and project; secondly, the creative effort; and lastly the action: these are the manifold manners in which grouped citizens can participate in the building of an inclusive society.
Topics may include, but are not limited to:
Theatre/performance and ethics of inclusion
Theatre/performance and politics of inclusion
Theatre/performance and economics of inclusion – its institutionalisation or de-institutionalisation, privatisation and commodification
Performance between ethics, politics and activism
Shapes and actions of performative inclusion
Theatre for inclusive communities
Migration and/or inclusion in relation to theories of vulnerability, precarity, debilitation, exploitation; also in relation to bio-politics, governmentality, security
From the aesthetics of inclusion to the action of inclusion
Aesthetics of migration
Theatre between representation of migration and social actions.
Deadlines and Guidelines
Please send your abstract and a short biographical note to
redazione.cs@unicatt.it
,
roberta.carpani@unicatt.it
and
giulia.innocenti@unicatt.it
by
May 15, 2018
. Abstracts should be between 300-400 words in length (either in English or Italian). All notifications of acceptance will be emailed no later than June 11, 2018.
If the proposal is accepted, the author(s) will be asked to submit the full article by September 15, 2018. Articles should be between 4,000-5,000 words in length (no more than 35,000 characters, spaces and notes included). Contributions will be sent to two reviewers in a double-blind procedure prior to the final publication decision.
Article read 2061 times.
Post a comment
Latest issue
Anno: 2022 - n. 1
Browse the archive
Recent issues
Available online
2022

issues